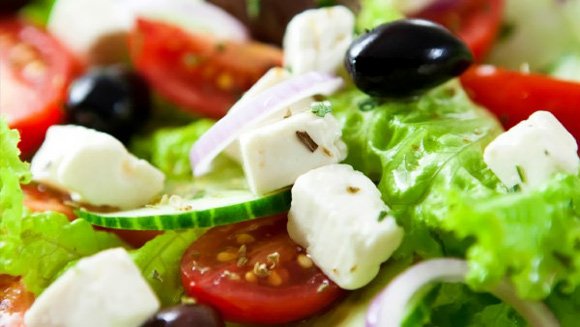 Uncle John's Tasty and Fresh Salads
Mediterranean Salad
Toledo gets a taste of the Mediterranean. Assorted fresh greens with tomatoes, red onions, black olives, banana peppers, and feta cheese with your choice of gyro meat, grilled chicken, or crispy chicken. – $10.49
Crabb Meat Salad
Crabb, Wisconsin Cheddar, sliced tomatoes, red onions, green peppers, mushrooms, and hard boiled egg on a bed of fresh lettuce with your choice of dressing. – $10.49
Chef Salad
Smoked ham with Wisconsin Cheddar, sliced tomatoes, red onions, green peppers, mushrooms, and hard boiled egg on a bed of fresh lettuce with your choice of dressing. – $10.49
Buffalo Chicken Salad
A bed of fresh lettuce with tomatoes, red onions, mushrooms, cheddar cheese and your choice of grilled or crispy buffalo chicken…not a fan of buffalo chicken? Request the chicken plain. –  $9.95
Shrimp Salad
Assorted fresh greens with tomatoes, red onions, black olives, feta cheese, and sautéed or grilled shrimp. – $9.95
Dinner Salad
Fresh greens tossed with Cheddar and olives. – $4.99
Salad Dressing Choices
Ranch, French, Italian, Greek, Thousand Island, Honey Mustard, Oil and Vinegar, Tzatziki, and Blue Cheese.
All salads are served with a slice of garlic toast.
---
Uncle John's Tasty and Healthy Wraps
Breakfast Wrap
Eggs, cheddar cheese, and your choice of bacon sausage or ham – $8.99
BLT Wrap
Bacon lettuce, tomatoes and mayonnaise – $9.99
Veggie Wrap
Lettuce, tomatoes, red onions, green peppers, mushrooms, pickles and you choice of cheese – $9.99
Southwest Wrap
Sliced turkey, bacon, guacamole, tomatoes, lettuce, and pepper-jack cheese – $12.49
Gyro Wrap
Gyro meat, lettuce, tomatoes, red onions, black olives, feta cheese, and tzatziki sauce – $12.49
Philly Wrap
Philly steak with green peppers, onions, mushrooms, and Swiss cheese – $12.49
Buffalo Chicken Wrap
Crispy Buffalo chicken, lettuce, tomatoes, cheddar cheese, pickles, and ranch dressing – $12.49 (Buffalo style not your thing? Request the chicken plain.)
All wraps are served with your choice of a potato side or cole-slaw, and a choice of cottage cheese or a side salad.
A gratuity of 18% will be added to parties of six or more.
All carry out orders will be subject to a $2.00 service charge. This includes all delivery service orders such as Door Dash, Grub Hub, UberEats, etc.
Consuming raw or under-cooked meats, poultry, seafood, shellfish, or eggs may increase your risk of food-borne illness.