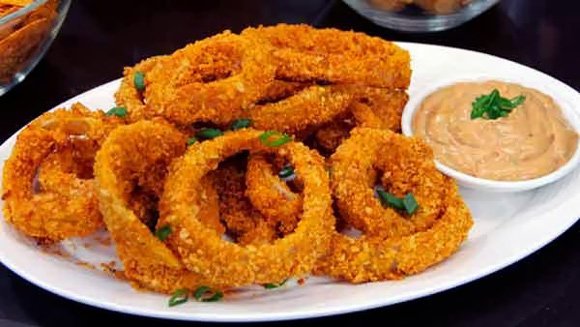 Uncle John's Appetizers – A Great Start To A Great Meal!
John's Potatoes
Baked Idaho potatoes sliced thin, skin-on and cooked on the grill top with green pepper, onions in seasoned butter. Topped with Wisconsin Cheddar. –  $2.79
Batter Dipped Mushrooms – $5.99
French Fries – $2.79
Garlic Herb Mashed Potatoes – $2.49
Hash Browns – $2.79
Hash Browns + Cheese & Onions – $3.79
Bacon (2) – $1.99
Chicken Breast – $3.95
Gyro Meat – $3.95
Shrimp (6) – $5.95
Uncle's Potato Wedgies
Baked potato wedgies appetizers skin-on, deep fried with John's garlic peppered seasoning. – $2.49
Onion Rings – $4.99
Baked Potato – $2.79
Coleslaw – $2.49
Cottage Cheese – $2.49
Steamed Vegetables – $2.49
Side Salad – $3.99
Guacamole – $1.99
New York Steak – $10.95
Country Fried Steak – $4.99
Brown Mushroom Gravy – $1.49
Burger Patty – $3.00
Appetizer Definition
Appetizers and hors of d'oeuvre the latter literally meaning "outside of the work"- assume a wide variety of forms in American dining.
Late twenty century dictionaries treat appetizers and hors d'oeuvres –popularly understood to be bite-sized finger foods offered at cocktail parties and receptions – as synonyms.
Americans also use "appetizer" to indicate the first course eaten when seated at table in a three course (appetizer, main course, dessert) meal.
Virtually all cultures have indulged in pre-prandial morsels designed to whet the appetite for more substantial across cultures in offering salty foods as stimulants.
A gratuity of 18% will be added to parties of six or more.
All carry out orders will be subject to a $2.00 service charge. This includes all delivery service orders such as Door Dash, Grub Hub, UberEats, etc.
Consuming raw or under-cooked meats, poultry, seafood, shellfish, or eggs may increase your risk of foodborne illness.