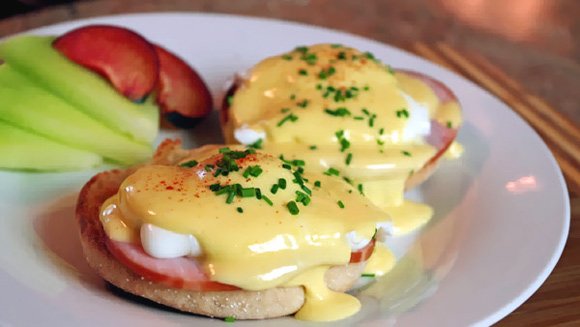 Eggs Benedict – The King of Breakfast Egg Dishes.
Eggs Benedict
A gourmet delight! Two poached eggs over Canadian bacon slices, topped with a rich Hollandaise sauce, and served on a toasted English muffin half. – $9.99
Eggs Oscar
A Foodie's Delight! Two poached eggs over diced Crabb meat, then topped with Hollandaise sauce, and asparagus spears on an English muffin. – $10.99
Portobello Melt
Two sausage patties side by side on top of an English muffin, topped with Portobello mushrooms, and then two poached eggs. All this is then smothered with Swiss cheese, and Hollandaise sauce. – $10.99
The History of Eggs Benedict
The following story appeared in the December 19,1942 issue of the weekly New Yorker Magazine "Talk of the Town" column and is based on an interview with Lemuel Benedict the year before he died.
In 1894, Lemuel Benedict, a Wall Street broker, who was suffering from a hangover, ordered"some buttered toast, crisp bacon, two poached eggs, and a hooker of Hollandaise sauce" at the Waldorf Hotel in New York. The Waldorf's legendary chef, Oscar Tschirky, was so impressed that he put the dish on his breakfast and luncheon menus after substituting Canadian bacon for crisp bacon and a toasted English muffin for toasted bread.
A gratuity of 18% will be added to parties of six or more.
All carry out orders will be subject to a $2.00 service charge. This includes all delivery service orders such as Door Dash, Grub Hub, UberEats, etc.
Consuming raw or under-cooked meats, poultry, seafood, shellfish, or eggs may increase your risk of food-borne illness.