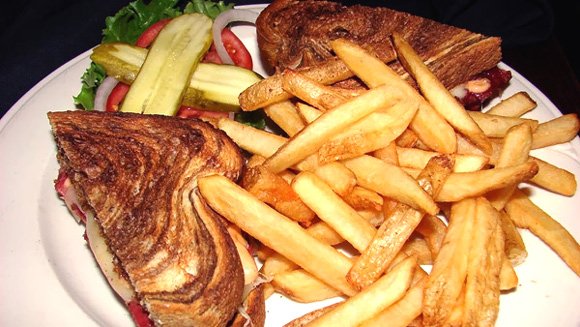 Uncle John's Signature Sandwiches
Served with your choice of French fries, hash browns, John's Potatoes, garlic mashed potatoes, or our Potato Wedges.  Also includes you choice of cloe-slaw, cottage cheese or a side salad. Double the meat, add $3.00.
Chicken Melt
Grilled chicken breast between sliced, grilled, thick marbled rye bread with double Swiss cheese and grilled red onions – $9.99
Chicken Bacon Ranch
Crispy, hand battered chicken breast served with crispy bacon, Swiss cheese, and ranch dressing – $9.99
Sky High Ham & Cheese
Shaved ham stacked high on grilled sourdough bread, and topped with Swiss cheese, lettuce, tomato, red onion, and pickle – $9.99
Philly Cheese Steak
Invented at "Jack's" in the Reading Terminal in Philadelphia. Topped with grilled onions, green peppers, and melted Swiss cheese – $10.49 / With mushrooms add $.79
Icelandic Cod Fish
Hand battered Icelandic Cod fillets served with lettuce, tomatoes, and American cheese on a toasted sub bun – $9.99
BLT Sandwich
Bacon, lettuce, tomatoes – $6.99
Chicken Jack Mushroom
Broiled chicken breast topped with mushrooms, red onions, and Monterrey Jack cheese – $9.99
Grilled Cheese
Grilled golden-brown sourdough toast with melted American cheese – $6.99 / add bacon and tomatoes – $8.99
Smoked Turkey Sub Sandwich
Shaved turkey with Swiss cheese, tomato, lettuce, and red onion stacked high on a grilled sub bun, and served with John's bistro sauce – $9.99
Classic Reuben Sandwich
Classic corned beef, sauerkraut, Swiss cheese, and Thousand Island dressing grilled on toasted, marbled rye bread – $10.95
John's Choice
Corned beef, Swiss cheese, coleslaw, and Thousand Island dressing on rye bread – $9.50
A gratuity of 18% will be added to parties of six or more.
All carry out orders will be subject to a $2.00 service charge. This includes all delivery service orders such as Door Dash, Grub Hub, UberEats, etc.
Consuming raw or under-cooked meats, poultry, seafood, shellfish, or eggs may increase your risk of foodborne illness.