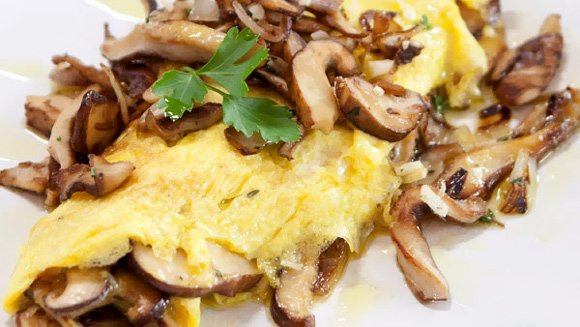 Uncle John's Famous Three Egg Omelettes
Includes- your choice of two buttermilk pancakes or toast.  Or choose a half order of French toast for a $1.00 or a plain waffle for $2.39…make it a premium waffle for $3.50.
Farmer's
Ham and onions wrapped around tangy Cheddar with potatoes tucked away. – $10.49
Portobello
Portobello mushrooms, sliced and sautéed in garlic butter,with Swiss cheese. – $10.49 | With chicken – $12.99
Ortega
Andouille sausage and jalapeno peppers, smothered in melted Cheddar cheese with salsa and sour cream. – $10.49
Meat and Cheese
Made with sharp Cheddar and your choice of bacon, sausage, or ham – $10.49
Gyro Omelette
Sliced gyro meat, onions, black olives, and served with tzatziki sauce – $10.99
Shiska
Mushrooms, ham, and Swiss Cheese. – $10.49
California Style
Chopped green peppers, Cheddar cheese, Swiss cheese, American and Pepper Jack cheeses. – $10.49
The Philly
Sirloin steak, sliced thin with green peppers, onions, and Swiss cheese – $10.49
New York Style
Corned beef hash topped with sharp Cheddar cheese, grilled onion, and green peppers. – $10.49
Vermont's Favorite
Filled with asparagus, ham and Pepper Jack cheese. – $10.49
German
Filled diced ham, onions and potatoes. – $10.49
Greek Chicken
Grilled chicken breast with sautéed asparagus, tomato, red onion, and topped with melted feta cheese. – $10.79
Crabby Hayes
Crabb meat and Pepper Jack cheese, topped with Hollandaise sauce. – $10.49
The Sheep Herder
Ham, green pepper, onions, and potatoes, with Swiss cheese. – $10.49
Vegetarian
Sautéed cauliflower, broccoli, corn, carrots, and snow peas. – $10.49
Vegetarian Two
Sautéed asparagus, mushrooms, corn and Italian tomatoes. – $10.49
Mexicanos
Chopped ham, onion, green peppers, tomatoes, mushrooms, and Cheddar cheese served in a tortilla shell. Served with a side of salsa. – $10.49
Andouille Cajun
Hot, hot andouille Cajun sausage with Pepper Jack cheese, and a side of salsa.  This omelette will knock you off your feet! – $10.49
Greek Style
Prepared with asparagus, tomato, and feta cheese. Greek at its best. – $10.49
Denver Style
A medley of diced ham, green peppers, and onions. – $10.49
Meat Lovers
A barn-yard of meat, steak, bacon, sausage, and ham. – $11.99
Steak and Cheese
Seasoned New York Choice and Swiss cheese.barn-yard of meat, steak, bacon, sausage, and ham. – $15.95
A gratuity of 18% will be added to parties of six or more.
All carry out orders will be subject to a $2.00 service charge. This includes all delivery service orders such as Door Dash, Grub Hub, UberEats, etc.
Consuming raw or under-cooked meats, poultry, seafood, shellfish, or eggs may increase your risk of foodborne illness.