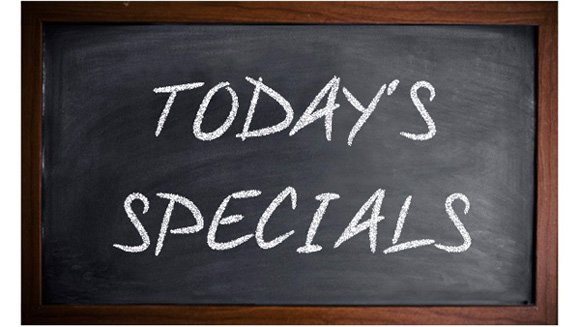 Our Daily Specials – Check Back Often
Weekdays – 10:00 am – 3:00 pm

Your choice of any sandwich, choice of potato and a soft drink. – $12.49
Wednesday's Special
All you can eat pancakes! All day long for just $3.99. (Specialty pancakes extra per order)
Friday's Special
All you can eat hand battered in house Icelandic Cod…just $12.49.  Served with French fries, ear of corn, dinner salad or cole-slaw, and garlic toast. From 11:00 a.m. to 3:00 pm.
Origin of The Menu
In the restaurant, a menu is a list of food and beverages offered to customers and the prices. A menu may be à la carte – which presents a list of options from which customers choose – or table d'hôte, in which case a pre-established sequence of courses is offered. Menus may be printed on paper sheets provided to the diners, put on a large poster or display board inside the establishment, displayed outside the restaurant, or put on a digital screen. Since the late 1990s, some restaurants have put their menus online.
The word "menu", like much of the terminology of cuisine, is French in origin. It ultimately derives from Latin "minutus", something made small; in French, it came to be applied to a detailed list or résumé of any kind. The original menus that offered consumers choices were prepared on a small chalkboard, in French a carte; so foods chosen from a bill of fare are described as "à la carte", "according to the board."
Daily Specials not valid with other offers.
Daily specials not available for private parties, or in the VIP room.
Specials are dine-in only.
A gratuity of 18% will be added to parties of six or more.
Consuming raw or under-cooked meats, poultry, seafood, shellfish, or eggs may increase your risk of food-borne illness.