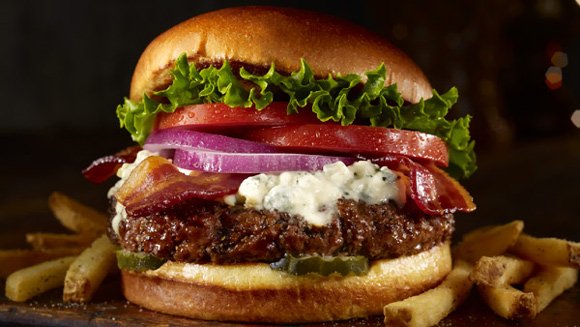 Uncle John's Deluxe Burgers Are 100% USDA Black Angus Beef
All of our burgers are served "Deluxe Style", with lettuce, tomato, red onion,and dill pickles.
The burgers come with your choice of French fries, hash browns, John's Potatoes, garlic mashed potatoes, or our new "Wedgie" styles potatoes.
Cheese and Bacon
Topped with bacon strips, and Swiss cheese. – $7.49
The Irish Burger
Shaved corned beef, fried egg, and Swiss cheese. – $8.49
Mushroom Burger
Smothered with freshly sautéed mushrooms. – $7.29
With cheese add $.60
Bleu Cheese and Bacon
Chunky bleu cheese, melted, and Oscar Mayer bacon dress this burger. – $7.99
Patty Melt
Double Swiss cheese and served on thick marbled rye bread. Onions served upon request. – $7.99
Guacamole Burger
Smothered with Guacamole, and pepper jack cheese. – $8.49
American Burger
Nothing fancy here, just a great burger cooked your way. – $6.49
Served with American cheese, add $.60

A gratuity of 18% will be added to parties of six or more.
All carry out orders will be subject to a $1.00 service charge. This includes all delivery service orders such as Door Dash, Grub Hub, UberEats, etc.
Consuming raw or under-cooked meats, poultry, seafood, shellfish, or eggs may increase your risk of foodborne illness.