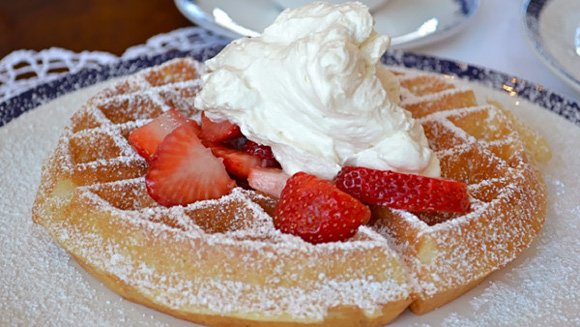 Our Belgian Style Waffles Are Light And Delicious
Banana Nut Waffle
Fresh banana slices and chopped pecans. Served with banana sauce, and surrounded by whipped topping, and a sprinkling of confectioners sugar – $9.49
Pecan Waffle
Chopped Georgia pecans inside a crisp waffle with pecans and powdered sugar on top – $9.49 – Add peaches $1.00
Fried Chicken and Waffle
A 6 ounce hand battered, chicken strips on top of a crisp waffle, finished with powdered sugar – $10.49
Chocolate Oreo® Waffle
Our Belgian waffle filled with Oreo® cookie pieces, topped with mounds of whipped, and more Oreo® pieces, then streaked with chocolate sauce, and confectioners sugar – $8.99
Original Belgian Waffle
Our famous waffle served with whipped butter and maple syrup – $7.49 – Top with your choice of fruit for just $1.00 more. | Strawberries, Blueberries, Apples, or Bananas.
French Toast Made In The Traditional Style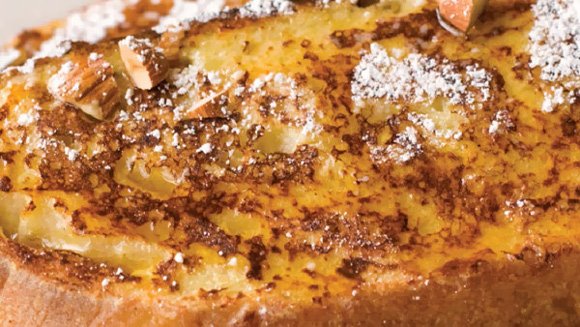 Uncle John's French Toast
Our French Toast is made from special sourdough bread, and dusted with powdered sugar. – $5.49  or $2.99 for a half order.
Add a side of strawberries, Blueberries, Apples or Bananas – $1.00
A Brief History of The Waffle
Waffle-making made its way to America with Dutch colonists in the 1620s. It was one hundred years later, in Robert Smith's Court Cookery, that the English language saw the appearance of the word "waffle" for the first time. Waffles were enjoyed sweet, with butter, syrup, or fruit, or savory, with kidney stew. For longer than anyone can remember, waffles have been a sweet, toasty breakfast treat and a staple inside America's freezers, restaurants, and recipe books. Maybe you enjoy waffles the old-fashioned way, with butter and maple syrup, or perhaps you like them decked out with chocolate chips, whipped cream, strawberries, and other decadent toppings. Or perhaps you like them the really old-fashioned way—no toppings, no utensils—or you've moved past traditional breakfast entirely with more adventurous concepts like waffle sandwiches, waffle crepes, waffle pizzas, or chicken and waffles……read more
A gratuity of 18% will be added to parties of six or more.
All carry out orders will be subject to a $2.00 service charge. This includes all delivery service orders such as Door Dash, Grub Hub, UberEats, etc.
Consuming raw or under-cooked meats, poultry, seafood, shellfish, or eggs may increase your risk of food-borne illness.