Uncle John's Egg Dishes Menu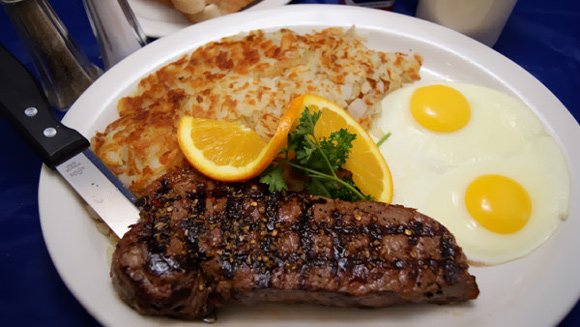 New York Steak and Eggs…Go On Treat Yourself!
All egg dishes are served with two eggs, and a choice of either two buttermilk pancakes, or two slices of toast. Extra egg add $.50. Add hash browns or John's Potatoes for $.99. Egg Beaters substitution, add $.35 per egg.
Country Fried Steak & Eggs
Hand breaded country fried steak covered with a spicy southern white style gravy. – $8.29
Sausage & Eggs
Choice of sausage patties (2) or links (4). – $5.99
Ham & Eggs – $5.99
Bacon & Eggs
Four strips of bacon. – $5.99
New York Steak & Eggs
A 10 ounce center cut choice New York strip steak – $12.99
Smoked Sausage & Eggs – $5.99
Canadian Bacon & Eggs – $5.99
Corned Beef Hash & Eggs
Served with peach slices. – $6.99
A gratuity of 18% will be added to parties of six or more.
Consuming raw or under-cooked meats, poultry, seafood, shellfish, or eggs may increase your risk of foodborne illness.