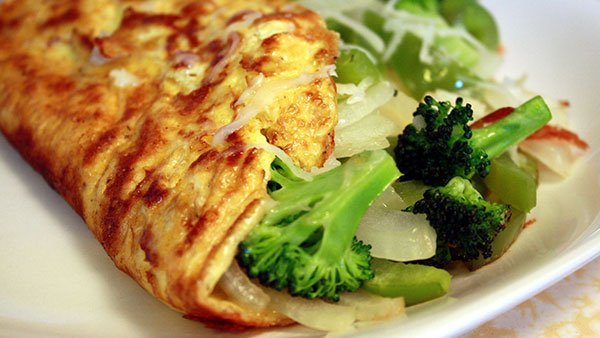 Uncle John's Vegetarian Menu Items
Vegetarian Omelettes
Portobello
Portobello mushrooms, sliced and sautéed in garlic butter,with Swiss cheese. – $9.99 | Add chicken for $1.00
California Style
Chopped green peppers, Cheddar cheese, Swiss cheese, American and Pepper Jack cheeses. – $9.99
Vegetarian
Sautéed cauliflower, broccoli, corn, carrots, and snow peas. – $9.99
Vegetarian Two
Sautéed asparagus, mushrooms, corn and Italian tomatoes. – $ 9.99
Greek Style
Prepared with asparagus, tomato, and feta cheese. Greek at its best. – $9.99

Vegetarian Sandwiches

Icelandic Cod Fish
Hand battered Icelandic Cod fillets served with lettuce, tomatoes, and American cheese on a toasted sub bun – $9.99
Grilled Cheese
Grilled golden-brown sourdough toast with melted American cheese – $6.99.

Served with your choice of French fries, hash browns,
John's Potatoes
, garlic mashed potatoes, or our Potato Wedges.  Also includes you choice of cole-slaw, cottage cheese or a
side salad
.
Vegetarian Salads and Wraps
Crabb Meat Salad
Crabb, Wisconsin Cheddar, sliced tomatoes, red onions, green peppers, mushrooms, and hard boiled egg on a bed of fresh lettuce with your choice of dressing. – $9.99
Veggie Wrap
Lettuce, tomatoes, red onions, green peppers, mushrooms, pickles and of cheese – $8.49
Shrimp Salad
Assorted fresh greens with tomatoes, red onions, black olives, feta cheese, and sautéed or grilled shrimp. – $9.99
A gratuity of 18% will be added to parties of six or more.
All carry out orders will be subject to a $2.00 service charge. This includes all delivery service orders such as Door Dash, Grub Hub, UberEats, etc.
Consuming raw or under-cooked meats, poultry, seafood, shellfish, or eggs may increase your risk of foodborne illness.